Top 10 Universities in Lahore
1. Lahore University of Management Sciences (LUMS)
In 1983, Syed Babar Ali, a renowned businessman in Pakistan, recognized the shortage of qualified managers in the country. He proposed to establish a world-class university that would attract and retain the highest caliber of students and faculty. LUMS is ranked as the top university in Pakistan in the QS University Rankings for the year 2021, 116th in Asia, and among the top 650 in the world. It is also ranked by QS as among the top 250 universities globally for business and among the top 400 universities globally in mathematics. In 2020, LUMS was ranked 40 globally in "World's Best Small Universities" by Times Higher Education, being the only Pakistani university on the list. Following a liberal arts curriculum, LUMS is one of Pakistan's most expensive, selective, and progressive universities. According to LUMS, it has disbursed PKR 3.2 Billion in financial assistance, with approximately 30% of the student body receiving some form of financial assistance each year. During the academic year 2015-16 alone, LUMS has disbursed more than PKR 500 Million as financial aid to its students.
Website: lums.edu.pk
2. University of the Punjab (PU)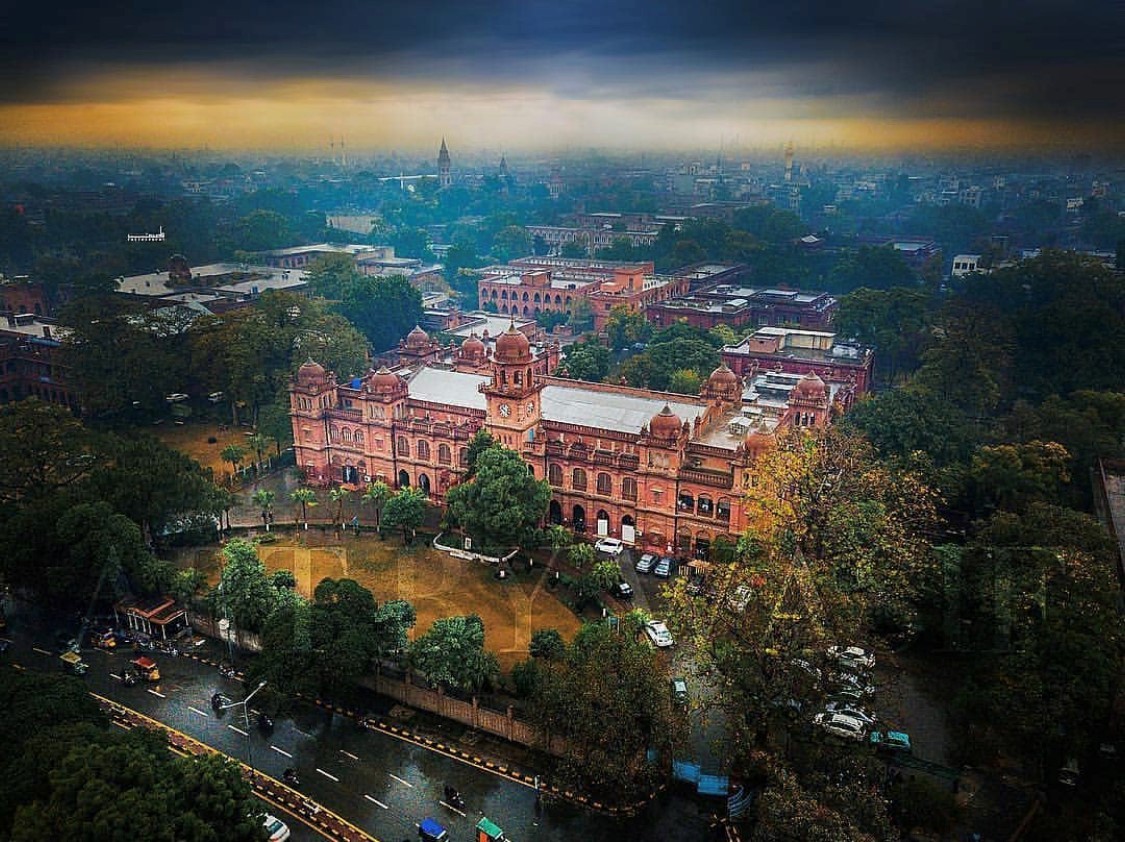 The University of the Punjab also referred to as Punjab University, is a public, research, and coeducational higher education institution located in Lahore, Punjab, Pakistan. The Senate house is known as Punjab university's old campus, Lahore, designed by architect Bhai Ram Singh in 1911, Punjab University is the oldest public university in Pakistan. With multiple campuses in Gujranwala, Jhelum, and Khanspur, the university was formally established by the British Government after convening the first meeting for establishing higher education institutions in October 1882 at Simla. There are 45,678 students (27,907 morning students, 16,552 evening students and 1,219 diploma students). The university has 13 faculties of which there are 83 academic departments, research centers, and institutes. In the recently issued rankings of Asian universities by QS World Universities Rankings, the university jumped from the 232nd to 145th position. It ranks 251–300 in Agriculture and Forestry, 501–550 in Physics & Astronomy, and 501–550 in Chemistry according to QS World University Rankings by Subject 2019. Entry Test is mandatory for admission to PU.
Website: pu.edu.pk
3. University of Engineering and Technology, Lahore (UET)
The University of Engineering and Technology, Lahore (UET Lahore) is a public university located in Lahore, Punjab, Pakistan specializing in science, technology, engineering, and mathematics (STEM) subjects. It is the oldest and one of the most selective engineering institutions in Pakistan. Today, it is widely considered one of the best and most prestigious engineering universities in Pakistan where more than 50,000 students apply for admission every year. It has a strong collaboration with University of South Carolina, University of Manchester, and the Queen Mary University of London and has conducted research funded by Huawei, Cavium Networks, Microsoft, and MontaVista. QS World University Ranking putting it as 801-1000 ranked slot in the world. In 2018 QS rankings university observed downgrading from 701 to among 801–1000 ranked slot. Meanwhile, in Asia university ranking is currently ranked at No. 183.
Website: uet.edu.pk
4. University of Lahore (UOL)
The University of Lahore, abbreviated as UOL, is a private university located in Lahore, Punjab, Pakistan. It was founded at the collegiate level in 1999 under the IBADAT Educational Trust and was granted full degree awarding status in 2002. It is one of the largest private universities in Pakistan. Degrees are awarded in medicine, engineering, arts, and social sciences. All programs are recognized by the Higher Education Commission (HEC) and government regulatory bodies in Pakistan. The University has also achieved the highest W4 category ranking with the Higher Education Commission (HEC) of Pakistan. The University of Lahore is ranked at 1001st position amongst the Top Universities of the World by QS-2023 Ranking, and at 301st position by Asian University Rankings-2023. The rankings of UOL are decreasing in the past years. The ranking of UOL in 2016 according to QS was 601st.
Website: uol.edu.pk
5. Government College University Lahore (GCUL)
After 158 Years of its wonderful history, the Government College, Lahore was raised to the status of a University in 2002. It was renamed GC University Lahore. The academic life here has been re-shaped in accordance with its new challenges and we hope to fulfill the expectations that go with a University. The GCU is committed to acting as a promoter of quality education for all. GCU is ranked 401st according to QS-Asia university rankings of 2022.
This Institution is one of the oldest seats of learning in the Muslim world.GCU Lahore offers safe, affordable, and comfortable accommodation to its students. GCU is much concerned about the financial constraints of students therefore hostels operate on a non-profit model. Mess charges are calculated as per the actual cost incurred on food preparation. University provides free accommodation facilities to special students in all hostels of GCU.
Website: gcu.edu.pk
6. University of Central Punjab (UCP)
The University of Central Punjab is a private sector university located in Lahore, Pakistan. The current enrollment of the university is 8,000. The University of Central Punjab, a part of the Punjab Group of Colleges, was Chartered by the Government of Punjab in 2002. According to the HEC ranking 2013, UCP's business school is number 3rd in Lahore. The University of Central Punjab is one of the top private universities in Lahore, Pakistan. It is ranked #451-500 in Asian University Rankings 2022. The University of Central Punjab offers undergraduate, graduate as well as postgraduate programs in the fields of Engineering, Computer Science, Pharmacy, Management Studies, Law, Media & Communication, Sciences, Life Sciences, and Arts and Social Sciences.UCP offers everything students need to develop and succeed in their academic and professional lives.
Website: ucp.edu.pk
7. University of Veterinary and Animal Sciences (UVAS)
The University of Veterinary and Animal Sciences, originally known as Lahore Veterinary College, is a public university located in Lahore, Punjab, Pakistan. It is accredited by the Pakistan Veterinary Medical Council (PVMC).
Established in 1882, it is one of the oldest institutions of veterinary sciences and microbiology in Asia. Since its inception, it maintained its reoccupation as one of the famous and renowned institutions of Veterinary and animal sciences and conducts a wide range of research in microbiology and the development of human resources. It was also affiliated with the University Of Agriculture, Faisalabad for some years and then become a distinct entity. The university offers undergraduate, postgraduate, and doctoral programs in diverse fields of animal health, food irradiation, security, and safety. The university maintains its highest ranks and is regarded as one of the top universities in the "agriculture" category by the Higher Education Commission (Pakistan) (HEC), as of 2010.
Website: uvas.edu.pk
8. University of Management and Technology (UMT)
University of Management and Technology UMT is a project of the Institute of Leadership and Management (ILM) Trust. ILM was established in 1990 by leading educationists, professionals, and industrialists with an aim to enhance organizational and individual effectiveness.
The University of Management and Technology has evolved into a premier institution of higher learning in the country. Recognized by the Higher Education Commission (HEC) as a "W4" category (highest rank) university, UMT is also the first in Punjab among medium-sized universities in the general category. UMT consists of 270+ Ph.D. faculty members. UMT offers 150+ programs.
Website: umt.edu.pk
9. King Edward Medical University (KEMU)
King Edward Medical University has a rich historical background that dates back to the 19th century; hence it is the oldest medical institution in Pakistan. A public sector chartered university was established as King Edward Medical University in 2005. It has a diverse student body comprising students from all parts of Pakistan and from Yemen, Iran, Afghanistan, Nepal, China, Bangladesh, Somalia, Sri Lanka, Turkey, Saudi Arabia, Germany, England, Canada, and the USA. Since its inception (159 years of excellence in medical education), it is the most preferred public sector medical college in the country. Students with top merit in MCAT Examinations and high achievers in academics get admission to King Edward Medical University purely on merit. Current enrollments include a total of 2,497 students in various undergraduate programs. Similarly, current enrollments are 1,131 in various postgraduate programs including Doctor of Philosophy, Master of Philosophy (M.Phil), MD, MS, MDS, and fellowships.
Website: kemu.edu.pk
10. Superior University
The Superior University, is a private university in Lahore, Punjab, Pakistan. Superior University is chartered by the Government of Punjab, Pakistan, and recognized by the Higher Education Commission (Pakistan) (HEC). Superior University has an edge in following the global trends and taking these practices to the next level by introducing all research and academic excellence facilities to its students as well as the faculty members here at the campus. Superior University has built a level of trust and confidence among its existing and aspiring students due to the launch of innovative but effective study and work plans. The superior university is ranked no.1 among Private Universities in Pakistan and is ranked in the Top 10 among Universities in Subcontinent.
Website: superior.edu.pk